Welcome to our Smile Club!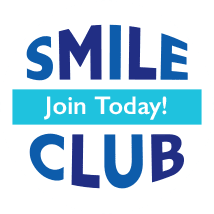 When families don't have dental insurance or can't afford dental care, they skip it.  Unfortunately, about 130 million Americans lack private dental insurance.
This includes:
22 percent of children between ages 1 and 17
40 percent of adults between 21 and 64
70 percent of seniors age 65 and older
According to the American Academy of Pediatric Dentistry:
28 percent of children between ages 2 and 5 are affected by tooth decay
By age 3, 5 percent to 10 percent have oral health issues
By age 5, about 60 percent of children will have had caries at some point
Without dental insurance most are discouraged from obtaining proper dental care for themselves and their family.
Not having dental insurance doesn't mean you can't get access to quality dental care for your child.
For our patients without dental insurance, we've launched our Smile Club membership* to provide cost savings and to simplify payment for sealant, restorative and/or cosmetic care.
With our Smile Club you can save up to 66% on your child's dental expenses and pay as low as $12 per month!
Call our office at 844-343-5437 to learn more about our Smile Club or join online today!
LEGAL & DISCLAIMERS
Memberships are not insurance but a payment arrangement provided by First Impressions S.C. Pediatric Dentistry & Orthodontics for services rendered. Membership is not transferable to other dental offices. Payment for any sealant, restorative and/or cosmetic treatment is due at the time of service. Membership dues must be current in order to receive services. A lapse of 28 days in dues will require a reactivation fee of six months' dues. Membership club discounts may not be combined with any other offers or discounts. It is solely the patient's responsibility to schedule and keep their appointments. No refunds will be provided for dues paid under any circumstances, including failure to schedule and maintain appointments. A patient member's monthly agreement is with the legal entity of First Impressions S.C. Pediatric Dentistry & Orthodontics. Monthly dues and fees for dental services may change at any time. Payment management services are provided by illumitrac.
Membership fees may be prorated for new members added to an existing account.
Needed x-rays are determined by your pediatric dentist at the time of the exam.
If there is sealant, restorative and/or cosmetic treatment needed, 80% of the cost must be paid in full prior to scheduling the appointment
*Membership does not include orthodontic services