DEAR PARENTS,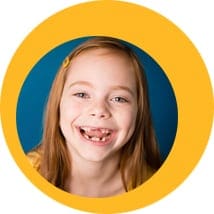 Prevention is #1 with First Impressions. When it comes to a child's teeth, it's easier and less costly to prevent tooth problems rather than fix them later.
Cavities don't just happen-they progress as a disease-often developing in stages. If caught in time, this disease process can be stopped. Lack of saliva in your child's mouth, enamel defects, elevated bacteria, and plaque on teeth are just a few of the advanced screenings that give us an enormous amount of information about your child and whether he or she is at high, moderate, or low risk for the formation of cavities.
Our team of dentists and hygienists use some of the most innovative approaches as recommended by the American Academy of Pediatric Dentistry to protect your child from cavities. New research, technology, and assessment tools are allowing us to go even further to assess your child's risk for cavities and other oral issues.
Dental Services At-a-Glance:
Pediatric Dentistry
Orthodontic Services
Oral Hygiene Services
Behavior Management
Sedation Services
Caries Management
Hospital Dentistry
Our team is waiting to hear from you, please call to schedule your child today or visit our FAQ for more information.