Can't afford braces? Think again.
We believe your child deserves a million dollar smile and you won't have to pay a fortune to receive orthodontic treatment.
What is an orthodontist?
An orthodontist is a dental specialist who has received two to three years of additional training and experience and is an expert in straightening your teeth and choosing the treatment option that's best for you.  Orthodontists are able to straighten teeth, correct misaligned jaw structure, and improve the function of your smile.
Think your child is too young for an orthodontic check?
It's important to evaluate kids as early as age seven! Early detection gives your child an edge, allowing for healthier oral development. At First Impressions, we believe it's important to take time to inform both kids and parents about the many different orthodontic treatments available.
We'll talk about your options, alternatives, and the best time to start. Here, we give your child all the advantages of the latest technology to make sure he or she moves into adulthood with the best possible smile!
For your added convenience, First Impressions also provides adult orthodontic services.
You have numerous choices.
We specialize in many orthodontic services, including conventional braces, clear braces, Invisalign®, and functional appliances.
Ask one of our knowledgeable team members to help you choose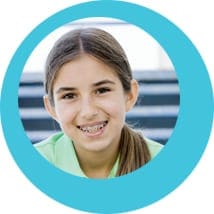 the right option to bring out your family's best smile!
We have convenient locations in Wausau, Rhinelander, Stevens Point/Plover, Medford, Weston, and Shawano Wisconsin to serve you. Our team is waiting to hear from you, please call today to schedule your FREE consultation or request one online.
Get Your Free Consultation Today!
Please visit our FAQ for more information.