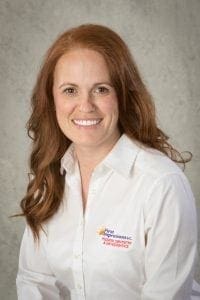 Hello, I'm Dr. Jennifer Moseley-Stevens!
I am originally from Fresno in central California. I received my bachelor's degree in cell and molecular biology at California State University, Fresno. During college I worked as a dental assistant for my grandfather and uncle; this is where I was inspired to become a dentist. I went on to earn a doctorate of dental surgery from Loma Linda University in 2003.
While practicing general dentistry for four years, I discovered my love of working with children and chose to pursue pediatric dentistry. I returned to Loma Linda University Medical Center, completing my pediatric residency in 2009.
In addition to my practice, I stay active in the following organizations:
American Academy of Pediatric Dentistry
American Board of Pediatric Dentistry
Wisconsin Society of Pediatric Dentistry
Wisconsin Dental Association
American Dental Association
When I am not practicing dentistry I enjoy spending time with my husband, Tim, and our daughters Ella and Isla. We enjoy traveling, hiking, and discovering all of the beautiful places in Wisconsin.
---
Testimonials
I went to First Impressions for my orthodontics and they do a great job! Their staff truly value their customers from day one of getting braces to five years down the road when your retainer needs a tweak. Overall best dental experience thus far!~Google Review

Appreciative

Great experience for both of my girls! They loved the waiting area (especially the slide). The staff was excellent and helpful.~Google Review

Enjoyable Experience

We have three daughters that are 18, 16 and 7 years old and all of them love going to the dentist! First Impressions has been a wonderful place to take our children for all dental needs. Very friendly staff and inviting environment!~Google Review

Can't Say Enough!

They are always prompt, on time, gentle with my children, and great with my kids. My kids look forward to going to the dentist.~Google Review

Kids love it!

Both of my children finally LOVE going to the Dentist! They get down to the children's level and make the parents feel reassured. It's a Win-Win!! Couldn't ask for anything better 🙂 ~Google Review

Kids want to go!

Great for kids. Makes going to the dentist fun and fearless.~Google Review

Great Atmosphere

Today was my 3 year old daughter's first dentist appointment, the staff was incredibly welcoming and kind. My daughter felt comfortable enough to go in the room by herself ! Incredible customer service and very informative for parents to have one on one with the doctor and assistant 🙂 ~Google Review

Good, Safe Place

We absolutely LOVE First Impressions! My daughter was terrified of the dentist for years. After switching to First Impressions there was a complete change in demeanor regarding the dentist! Today she was actually excited to go there for her dental appointment! Unbelievable!!~Google Review

Beyond Expectations!!!

I appreciate their friendliness and tenderness. My son will never have to fear going to the dentist with the caring staff and doctors here! The playful waiting area is just a bonus!~Google Review

Kid Friendly

Everyone is very friendly and thorough in taking care of my child's dental needs! I know he is in great hands!~Google Review

Recommended!
---
Our Team